David & Gillian Whitaker and Family
We've served here for over 13 years! It's been incredible. Our hearts are to reach the lost & un-churched in this Community and raise up a Church that has the ability to reach the culture. So far we've seen over 50 conversions and over 125 baptisms.
Erica and Brandon Blasiola
Worship Leader /Youth Leaders
Erica and Brandon have been with us for the last three years & I can honestly say they have taught our church how to worship. They lead with passion, energy and authenticity. Not only do they lead us in Worship every Sunday, but they serve as Youth Leaders as well. They have a beautiful little family.
Worship Leader & Pastoral Assistant
David has been with us for three years now helping us reshape our Worship Experience & church culture. He brings a level of professionalism to our Worship that's unmatched in our area. Not only that but David serves on our Preaching Team & Assists our Lead Pastor on a weekly basis. We're blessed to have him on our team.
Adewale & his beautiful family have been with us for the last few years where they serve in various areas of ministry including our Toddler room & Adewale behind the drum set. Adewale is spirit filled at the drums, he's a huge asset to our Worship Experience. Not to mention he's a part of our preaching team as well @ HBC. So good!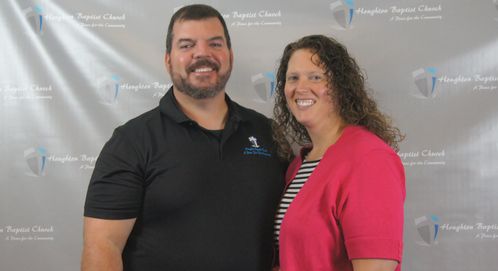 Lead Worship Pastor & Sound Team Manager
Wes & Elka have been with us for over a decade leading the way in almost every area. They have served on our Leadership Team, Our Worship Team & Sound team. They love being a part of such an Evangelistic Church. They have an incredible family and have impacted all of us and this community in ways I can't even put into words.
Treasurer & Children's Church Team Leader
Carolyn has served on our team for over 6 years and has done a fantastic job for us. Not only does she work as our church treasurer but she's one of our Children's Church Team Leaders. She also serves on our Leadership Team. We would be lost without her leadership and willing spirit.
Administrative Assistant / Children's Church Team Leader
Gillian has served as our Administrative Assistant & Children's Church Team Leader for over 8 years now. She has done a phenomenal job with executing our church wide events and creating a positive Children's Church Worship Experience week in and week out @ HBC. Not to mention, she does a great job at supporting our Lead Pastor, David Whitaker and taking such good care of their family.